If you have decided to sell your home this Spring and you want to market it right, there are a few different ways to go. Staging adds another "to do" item to your list during what might be an already stressful time. However, deciding to take the extra step to ensure your home is ready for those buyers and walk-throughs could end up to be one of your most rewarding decisions throughout the process. The goal is to not leave empty rooms, but to create for the buyer, the feeling that they already live there and showcase your home's best assets.
Home staging companies can be hired at a reasonable (to large) expense to come in and do the job for you, or your chosen agent may offer the service as part of their marketing plan, or have some suggestions for you. To help you out... we have put our agents suggestions together and created a basic tip/outline structure for you here, that can be used to properly and effectively stage your home and reap the rewards from buyers. As we go through these steps, keep in mind that your buyer this year is typically a Millennial (known for their attention to detail) or an Empty-Nester (looking to establish a life for themselves). Keeping in mind your target market will help you set the stage for your home decorating.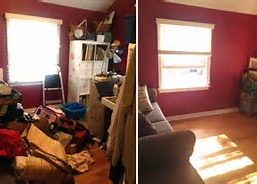 1. De-Clutter Your Home
When walking into a cluttered home, your buyer's first thoughts will subconsciously be that the space the home has does not allow for proper storage. It can be an immediate turn-off to a potential home owner. If every closet and cabinet is full, the home's best features may be covered up and not even seen.
The key to this problem is to immediately begin packing and tidying up a house when you first decide to sell and before you allow for showings. Investing in a temporary storage unit will help give your prize possessions a temporary landing spot and ensure that the boxes and clutter are well out of the sight of the buyer. If you store these items in the garage or attic, you are not decluttering, but moving items from one spot to another without eliminating the thought that the home doesn't have ample space. Allow for neutral furniture and decorations to stay, and eliminate any unnecessary items or overflow of belongings. Ask a friend, or if you have chosen a realtor you trust, for their brutally honest opinion of the clutter in your home and get to work!
*TIP: Pull your furniture away from the wall a little to give the illusion of a larger and more appealing space. Try It!
2. Clean Your House Thoroughly
This seems like an obvious thing to do, but although people may tidy up and do the normal vacuuming, it is easy to forget all the hidden spots. In your time living in the home, you've grown accustomed to certain smells or looks, but it is either time to hire a company to come in and clean for you, or roll up your sleeves! On top of your normal cleaning, make sure to clean areas like closets, under-sink cabinets, and storage areas. Leaving completely cleaned surfaces with a simple candle or fruit bowl out is key to maintaining a clean appearance free of clutter.
Also consider making sure your home has curb appeal and cleaning up the outside areas as well. Make sure light bulbs are replaced, yards are raked, the lawn is well manicured, and even add a welcome mat for your clients first impression - to feel as if they are welcome to THEIR new home.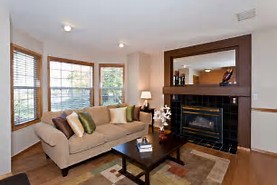 3. Depersonalize The House
Potential buyers for your home are trying to walk through your home to imagine their own life in your space. They want to envision how they could make the space become their home. While staging your home, walk through and remove family photographs and mementos, all the things that you have put up to create your world and favorite memories. Any item that could influence a buyer's decision as to your lifestyle and your family should be packed away.
To replace these items and neutralize the home more, consider hanging mirrors instead of photographs. Add more light and character to your home and increase the thought of space. Open blinds and curtains and allow light in and allow for stormy days by turning lights on and still creating a warm and well lit home presentation.
4. Define Your Spaces
No definition needed here, but your rooms do need to have a clear purpose and rooms that are established areas to direct your home buyers as to the purpose of each room. A bedroom is a bedroom, and your kitchen is clearly a kitchen, but what about that open area off the kitchen? Address each room from the perspective of the room's purpose and make sure that the furniture and neutral decorations that remain give clear direction as to how that space is utilized. A multi-purpose room may confuse a buyer, or they may not be able to identify what they could use that space for. Set up an office room, not area within a room. Make sure that each area has a clear purpose. This becomes extremely important for your Millennials and Empty-Nesters that may not know what to use spaces for, but will probably need a work from home area.
At the end of our story, implementing these four staging tips will allow for your buyers to see the home they could create and the life they could lead through the purchase of your home. It may seem like an inconvenience, or too high of a cost to pay for setting up furniture and investing in a storage unit, but if you spent $3,500 and gained an increase in the sale of your home of $15,000, you would feel amazingly different!